TFCC Tear Wrist Splint
If in doubt, you should ALWAYS order NARROW.
Please click here for non-US color and version availability.
The WristWidget® is designed to provide support to the radius and ulna which enables the TFCC to heal without surgery.  Wendy Medeiros, the inventor, has focused exclusively on this injury since 2016 and has worked as a hand therapist since 1991.  Her experience is your asset when it comes to the knowledge of and the healing of triangular fibrocartilage tears. The WristWidget® has gone through over 2000 variations and meticulous care to get it where it is today!

Made from soft cotton and hook & loop, it has no latex or chemicals. It can be worn in the water and the shower.  It fits all wrists - whether left or right, large or small.  Your satisfaction is guaranteed!  The WristWidgett® is available in 4 stylish colors.  The more you buy - the more you save!
Patent #8,398,573 B2
Read our reviews below - Add yours to help others if you're a WristWidget user!
Fits both wrists, large and small

100% guaranteed

Can be worn in the water and shower

Do not put in Washer / Dryer
Read Testimonials here
Wide vs. Narrow straps
Narrow WristWidget®
- strap width: 3/8"
This version fits
the most people the best
. The strap nestles nicely into the wrist crease providing a great fit.
If in doubt, you should ALWAYS order NARROW.

Wide WristWidget®
- strap width: 1/2"
This was the original version and many of our early users like the fit.
Don't know which to order?
If this is your first WristWidget®, then order the narrow version
.  Please check
here
to see if the version you desire is available outside of the US.
In the image, wide is shown in blue, and narrow is shown in black.
Customer Reviews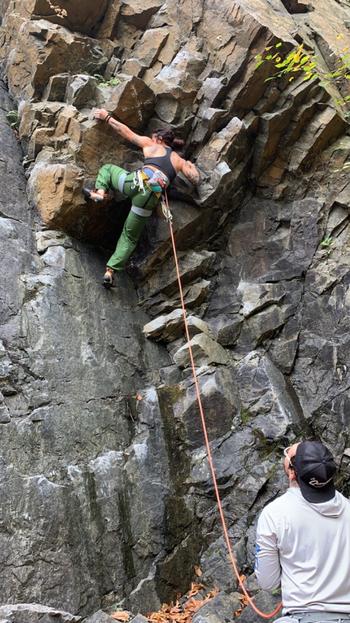 10/16/2020
I recommend this product
Has allowed me to climb with a tfcc tear
It doesn't fix the tear but provides me enough support where I can still send hard af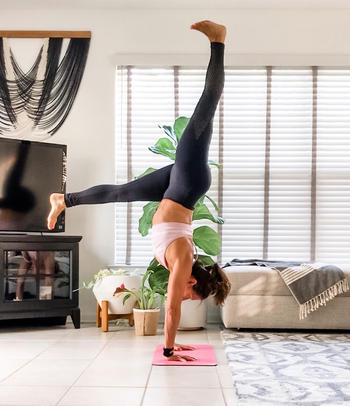 09/14/2020
I recommend this product
Wrist Saver
Love my wrist widgets, they have saved my wrist by providing the addition support needed when doing a lot of handstand drills. They are easy to put on and take off and easy to wash.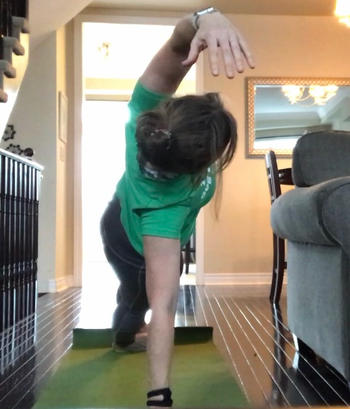 08/12/2020
I recommend this product
Wrist widget 2.0
This is my second wrist widget. I wore the first one to death And washed it in the washing machine (oops!) so needed another spanking new one. Very happy with how it helps with certain tasks. Still a long road of healing to go but happy to have this brace as part of the process.
10/27/2020
I recommend this product
Saved the day
Wrist pain almost kept me out of mixed doubles-- with it we advance three rounds to the finals.
10/23/2020
I recommend this product
Won't stay down.
I am having difficulty getting it to stay in place. It drifts up above the end of the ulna (styloid process?). I tighten it quite firmly, so it's not because it's loose. Perhaps it's too tight and it works its way toward a slimmer part of the wrist?
Hi Jean, Thank you for your review. It appears you belong to the elite group with a shallow wrist groove. You can read about it here: https://www.wristwidget.com/blogs/blog-archive/help-my-wristwidget-is-sliding-and-wont-stay-up You will see we have remedies available to help it stay in place better for you. I'm happy to send you a liner. Please email me at deanne@wristwidget.com with your mailing address.
10/19/2020
I recommend this product
Amazing Wrist Widget
I has saved my tennis teaching career
10/18/2020
I recommend this product
Not so helpful for my condition
The product it self was ok pretty expensive for what you get. It did not help me in fact it made my pain worse,and I am having surgery on 10-23-20. The product also was very irritating due to the stiff scratchy material,I have since sent it back and am waiting for my refund.
Thanks for your feedback. We have been in conversation and you mentioned that you will be having surgery for a particular condition - which is one that the WristWidget is not intended for, and as a result, you won't feel relief. Thank you for contacting us - your return was received to day and a refund has been issued. We wish you the best success with your wrist!
10/16/2020
I recommend this product
Wrist widget
Fantastic, no pain in my wrists when riding my bike or doing yoga, highly recommend!
10/16/2020
I recommend this product
They Work Well!!
We have always had success using the wrist widgets with our patients. They support the wrist as they are suppose to and allow the person to function as they need to.
10/15/2020
I recommend this product
A Simple Brace That Really Helps
I've had chronic wrist pain now for many years due to playing Paddle Tennis. While it didn't and can't heal whatever injuries my wrist has sustained, the Wrist Widget greatly alleviates the pain and allows me to play my sport.
10/15/2020
I recommend this product
Doesn't stay on
It's doesn't hold it's place during activities.
Hi Chad! Please read this to understand WHY you're having trouble with sliding. https://www.wristwidget.com/blogs/blog-archive/why-is-the-wristwidget-one-size-fits-most I'm happy to send you a liner to help keep it in place. Email me at: deanne@wristwidget.com And as it says on every package - 100% satisfaction guaranteed. Our goal is a healed wrist. --DeAnne
10/12/2020
I recommend this product
Very good
Excelent product
10/03/2020
I recommend this product
Works great
Works great, reduces wrist pain when playing golf
09/25/2020
I recommend this product
Effective but can be improved
Works well but the edges are sharp and cause irritation and small cuts. Your below yes no questions are not fair for the review. This product can be great if you fix the issue of sharp edges.
09/20/2020
I recommend this product
Has great reviews, didn't work for me.
Recommended by physical therapist for ligament tear in wrist. Ordered got it quick, great customer support. Couldn't tell any difference after using for a month. A little pricey for what you actually receive. Getting surgery next week so maybe my tear was too bad for a fancy bracelet to fix.
Hi Nicholas, Thank you for your honest feedback.  Did you do the Weight Bearing Test?  I'm curious as to what your results are for your good wrist, bad wrist, and bad wrist with the WristWidget.  You see, if you have a TFCC injury, for which this is designed specifically to treat, you will notice an immediate improvement in your weight-bearing ability and pain reduction. If you have an injury to other ligaments you will not notice a change. The ECU, and FCU are frequent TFCC injury imposters.  The Weight Bearing test will alert you to the differences.  Our best wishes for your upcoming surgery.
09/15/2020
I recommend this product
Helps with pain
The wrist widget provides good support and allows me to keep doing my job (which involves a lot of typing and writing) despite my tendonitis. My orthopedic doctor recommended it and I wear it all day every day. I notice a big difference when I am wearing it; the pain is much less. I will probably purchase another one so that I have a "back-up" dry one when my original one gets wet (like when I wash my hands or do dishes).
MD
Margaret D.
09/10/2020
I recommend this product
Fantastic, can't live without it!
08/30/2020
I recommend this product
Strengthens Weak Wrist
I was told about the wrist widget by a therapist treating my wrist. It instantly lessened the pain and weakness. This is the 4th widget I have purchased.
08/26/2020
I recommend this product
Wrist Widget
It easy and comfortable to wear. Although, since my wrist is small, the widget will move to the incorrect position. Once I spoke to Customer Service and they suggested using a Coband—I haven't had a problem since. I gave it a 4 star because I now have to buy Cobands all the time.
08/25/2020
I recommend this product
New Wrist Widget
My physiotherapist recommended this product for any weight-bearing exercise and it seems to work well! Reduced pain. Can be adjusted based on where your problem area is.